Please consider helping Jack with his fight for religious freedom, and freedom of speech. If you can't help financially, please pray for him and for his legal team.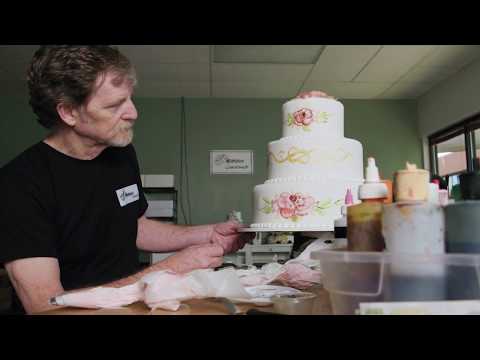 Thank you for your interest in standing with Jack through these difficult times!
For over six years, Colorado officials have been on a crusade to crush Jack because of his Christian faith. But Jack stood strong and fought for his freedom–and our freedom–all the way to the U.S. Supreme Court. There, he won a great victory for religious liberty!
He thought that meant the end of his painful struggle against Colorado's hostility. Unfortunately, he was wrong. After the Supreme Court ruled 7-2 that Colorado violated the First Amendment by demonstrating religious hostility against Jack, it took Colorado less than a month to renew its crusade against him. This time, instead of punishing Jack for declining to design a custom cake celebrating a same-sex wedding, Colorado seeks to punish him for politely declining to create a custom cake with a pink and blue design celebrating a gender transition. Jack serves everyone, including people within the LGBT community. What he can't do is create cakes that express messages or celebrate events in conflict with his religious beliefs. But Colorado doesn't care that Jack has a constitutional right to peacefully live and create art consistent with his religious convictions. Nor does it care that he serves everyone. In Colorado's view, Jack must suffer because his religious beliefs prevent him from celebrating certain ideas about marriage, gender, and sex that Colorado endorses. And suffer he has. Over the last six years, Jack lost around 40% of his annual revenue at Masterpiece Cakeshop. He also endured repeated instances of harassment from others, including death threats. Jack just wants to move on, but Colorado won't let him. Instead, the state has decided to ignore the Supreme Court's decision and unlawfully target Jack's faith yet again. It seems that Colorado won't stop going after Jack until he closes down his shop or agrees to violate his faith. Enough is enough. Colorado's hostility left Jack with no choice but to file a federal lawsuit to try to stop this persecution. He could have another long struggle ahead of him as he once again stands up for the right of every American to live, work, and speak consistent with their core convictions. Please support Jack Phillips and stand with him against Colorado's unconstitutional harassment!
Source: Peer to Peer Fundraiser – Support Jack Phillips
The ads on this page are not necessarily supported  by me or Jack Phillips.